Career Discovery Forum in Malaysia 2023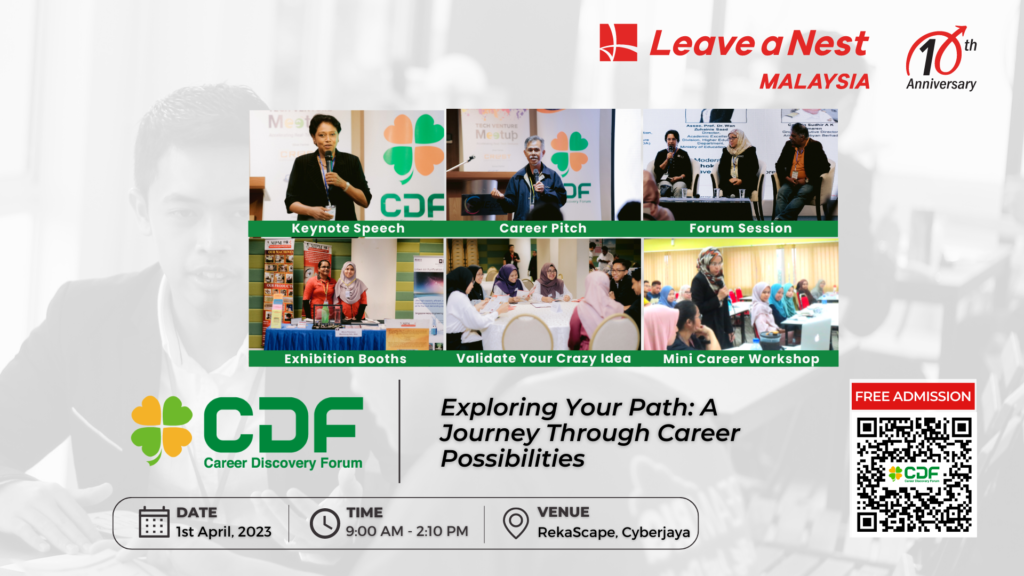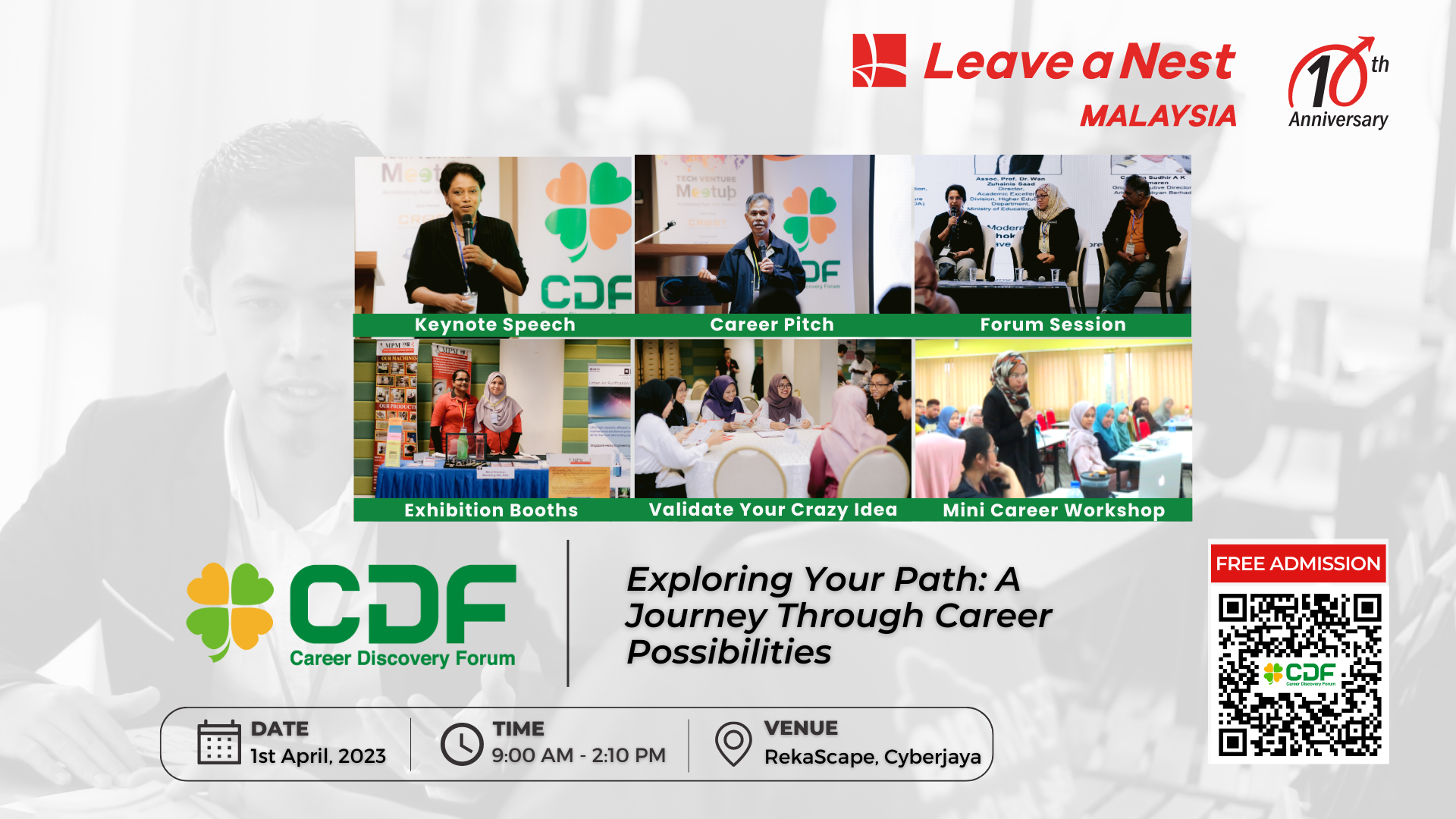 | | |
| --- | --- |
| Theme | Exploring Your Path: A Journey Through Career Possibilities |
| Date | 1st April 2023 |
| Time | 09:30 – 14:10 (MYT) |
| Venue | RekaScape, Cyberjaya |
Background
Career Discovery Forum (CDF) is a unique event that started in Tokyo, Japan in 2016. It was introduced by Leave a Nest and started as a seminar where university students, researchers, and companies exchanged thoughts and visions with the aim to create new science research topics and design future careers together. Unlike other career fairs, CDF gave the opportunity for employers to identify potential talents outside normal recruitment channels and also for students to explore their career path by engaging with industry.
About CDF in Malaysia 2023
The theme "Exploring Your Path" highlights the idea that there are many different paths to take when it comes to finding a career. The theme encourages participants to think about the various options available to them and to approach their career discovery journey as an exciting adventure full of potential. The "Journey Through Career Possibilities" encourages participants to explore the different possibilities by engaging with industries and being open to new ideas and new opportunities.
Agenda Timeline
Time
Agenda
09:00-9:30
Registration
9:30-9:40
Opening Ceremony & Welcoming Remarks
9:40-10:00
Keynote Speech
Charting Your Course: Strategies for Successful Career Exploration
10:00-11:00
Forum Session
Navigating the Future of Work: Identifying and Capitalizing on Emerging Career Opportunities
11:00-11:05
Short Break
11:05-11:50
Career Pitch
11:50-13:50
Validate Your Crazy Idea | Mini Career Workshop
13:50-14:10
Closing Ceremony
Keynote speaker
Focus on the importance of making informed decisions when it comes to career path. The speech will cover a variety of topics, including understanding one's values and priorities, researching different career options, and developing a plan to achieve career goals. The speech will also discuss the importance of being adaptable and open to change, as the job market and the economy are constantly evolving. The speaker will provide practical tips and strategies for making informed career decisions, and will encourage attendees to think outside the box when it comes to their career paths. The speech will empower individuals to take charge of their careers and create their own opportunities.
Forum session
A discussion that explores the current and future trends in the job market and their impact on different career fields. The focus would be on identifying new and emerging career opportunities, and providing strategies for how to capitalize on these opportunities. The session might cover topics such as the effects of automation and artificial intelligence on the workforce, the growth of remote work, and the importance of upskilling and reskilling for the future.
Career Pitch
The session comprise of company introduction, highlighting their philosophy in creating innovative technologies or service to solve real-world problems. The representative will share some of the company's cutting-edge technologies and unique features that set them apart from competitors. Participants can ask questions and engage in a Q&A session, gaining a deeper understanding of the company's mission, technologies, and culture as well.
Validate Your Crazy Idea
The session will feature students pitching their ideas to companies based on a given theme. Each student will have 3 minutes to present their pitch, which should showcase their innovative thinking and problem-solving skills. After each pitch, the company representatives will provide feedback and suggestions on how to improve the idea. This session will offer students the opportunity to gain valuable experience in presenting their ideas to potential employers and receive real-time feedback on their work. At the same time, companies will have the chance to discover new talent and ideas from a pool of motivated and creative students.
Mini Career Workshop
The mini career workshop session will focus on providing students with preparation tips to enter the industry. The session will include various topics, including resume preparation, communication skills, and presentation skills. Students will learn how to create a professional resume that highlights their skills and experience effectively. Additionally, they will learn communication techniques that can help them stand out during interviews and networking events. The presentation module will provide students with the necessary tools to deliver engaging and effective presentations, which can be helpful in various settings. By the end of the session, students will have a better understanding of how to prepare themselves for the industry and the skills needed to succeed in their careers.
Participation Benefit
Unlike other career fairs, the CDF will provide an opportunity for direct interaction between the companies and attendees. Participants will also be exposed to an informative keynote speech, forum discussions, exhibition booths, and industrial sharing.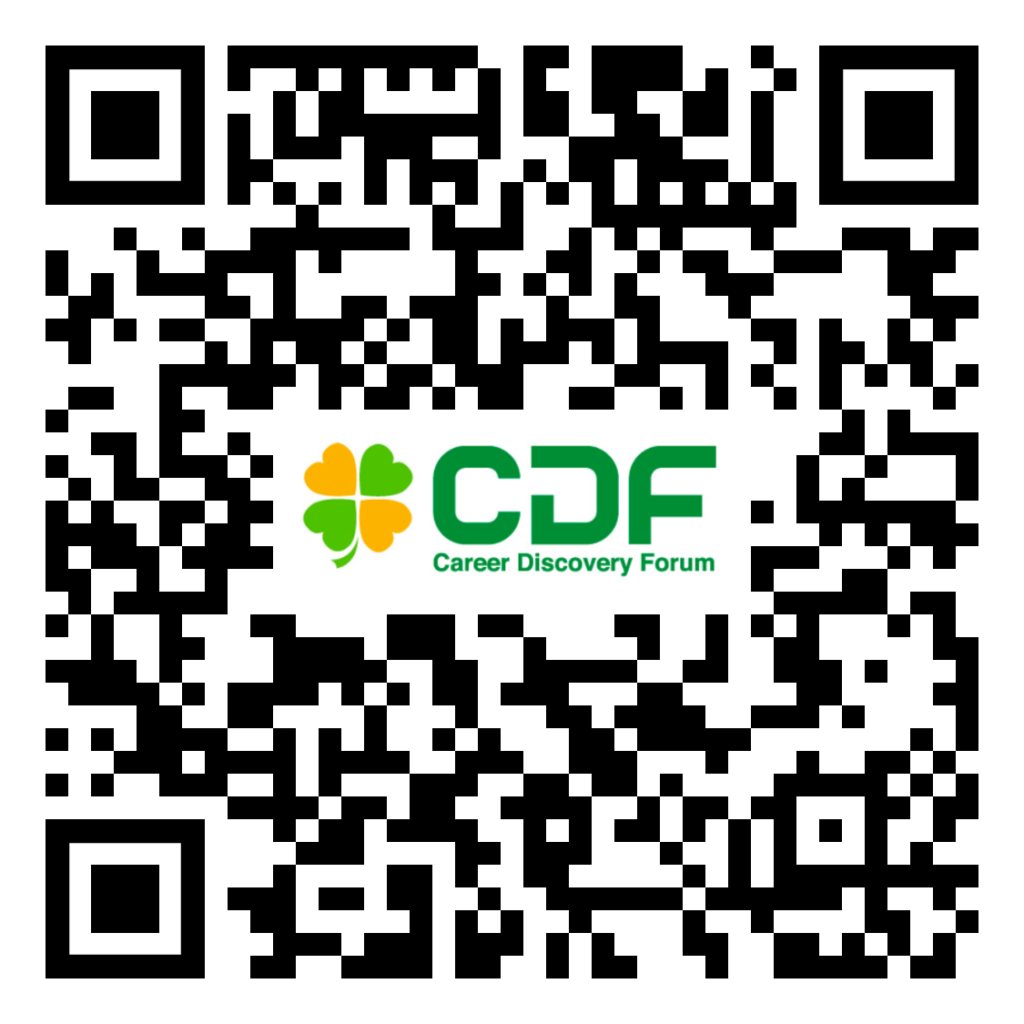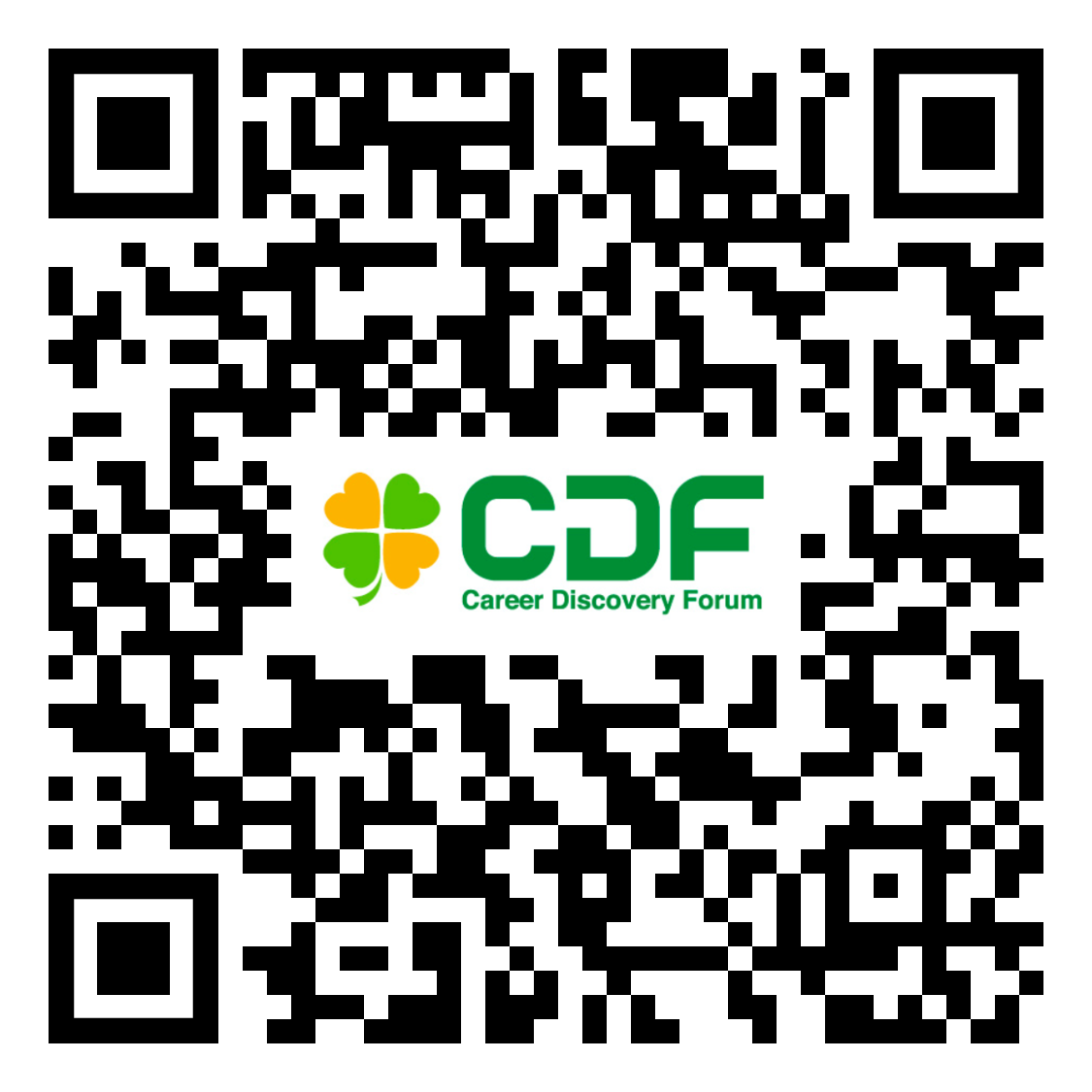 https://cdforum.lne.st/CDFMY2023_Registration