The 6th Career Discovery Forum in Malaysia 2024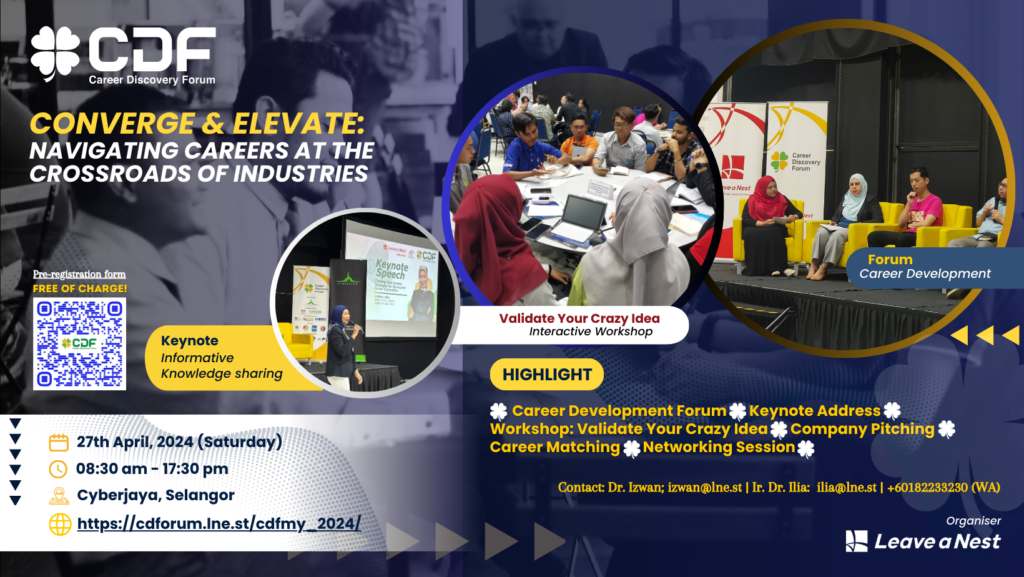 | | |
| --- | --- |
| Theme | Converge & Elevate: Navigating Careers at the Crossroads of Industries |
| Date | 27th April 2024 |
| Time | 08:30 – 17:30 (MYT) |
| Venue | Cyberjaya, Selangor |
Background
Career Discovery Forum (CDF) is a unique event that started in Tokyo, Japan in 2016. It was introduced by Leave a Nest and started as a seminar where university students, researchers, and companies exchanged thoughts and visions with the aim of creating new science research topics and designing future careers together. Unlike other career fairs, CDF provides the opportunity for employers to identify potential talents outside normal recruitment channels and also for students to explore their career paths by engaging with industry.
Essentials Elements for Starting Your Career
Both participants and corporations will be guided through crucial stages, as the 'Elements for Starting a Career' include: clarifying your career goals (self-awareness), showcasing your strengths (CV and resume), and presenting your authentic self (interview). Effective two-way communication will optimally showcase high-quality talent, aligning perfectly with market job opportunities.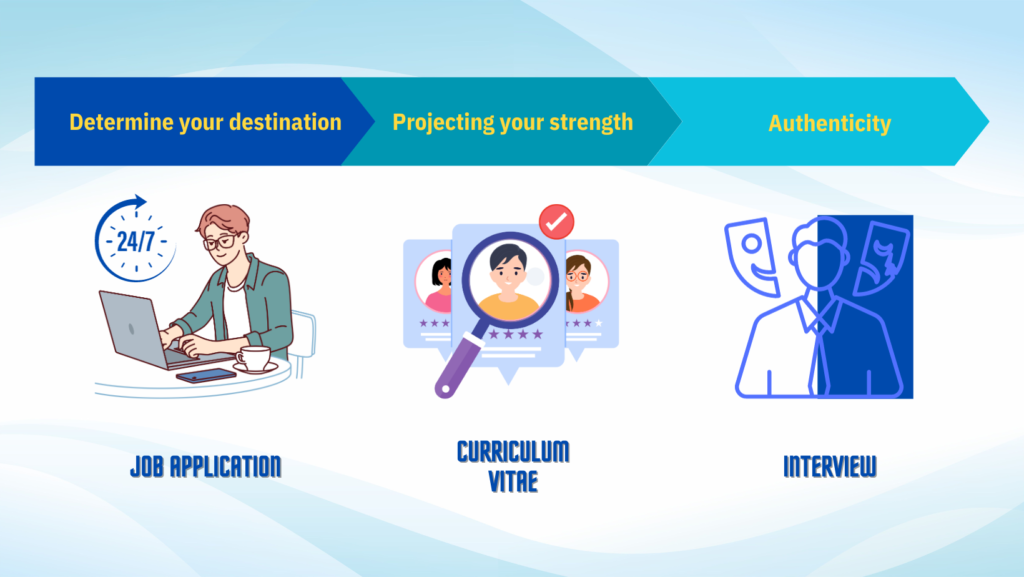 Determine your goal – Regardless of your academic background or socioeconomic status, it's crucial to determine your own career path. Opt for a job that brings you joy, ensuring a fulfilling career. Your life will naturally revolve around the satisfaction derived from your chosen profession. Avoid succumbing to peer and family pressure; prioritize yourself, as the impact will be most significant on your own life rather than theirs.

Projecting your strength – Your nonverbal representation, encapsulated in either a Curriculum Vitae (CV) or Resume, will be showcased. In contemporary recruitment practices, employers frequently request video presentations or self-introductions to enhance the diversity of assessment methods. Proficiency in showcasing your strengths that align with the desired quality, coupled with additional advantages, is essential. However, candidates often tend to exaggerate, making this stage primarily a surface-level assessment for employers.

Authenticity – The interview session serves as a platform to gain a deeper understanding of who you are. Your interpersonal communication skills and persona will be under evaluation and scrutiny. At this stage, your CV takes a back seat, as interviewers are more interested in what you can bring to the table rather than your past accomplishments listed on your resume.

The Career Discovery Forum will equip you with essential knowledge on effectively navigating your career path, guiding you on how to best represent yourself in your CV, and providing insights on handling questions during interviews.
About The 6th CDF in Malaysia 2024
In a world defined by interconnectedness, career paths are no longer singular roads, but a web of crossroads that intertwine and intersect. Our theme, "Converge & Elevate: Navigating Careers at the Crossroads of Industries," encapsulates the essence of the modern professional journey. Just as diverse industries converge to create groundbreaking solutions, your journey can be enriched by embracing the interplay between Healthcare and Medical Science, Biotechnology, Engineering, Information Technology and cybersecurity, Creative Technology, Entrepreneurship and Business Management, Education, and Retail Industry.
Agenda Timeline
Time
Agenda
08:30-9:00
Registration
9:00-9:30
Opening Ceremony: Welcoming & partner Remarks
9:30-10:00
Keynote Speech –
The Power of Convergence: Harnessing the Synergy at the Crossroads of Industries
10:00-11:00
Forum Session
Intersection Insights: Exploring the Interplay of Industries
11:00-11:10
Short Break & networking
11:10-12:00
Company Pitch
12:00-13:00
Mini Career Workshop
13:00-14:00
Lunch Break
14;00-15:20
Validate Your Crazy Idea 1
15:20-15:40
Short Break & networking
15:40-17:00
Validate Your Crazy Idea 2
17:00-17:30
Closing Ceremony
Keynote speaker
The Power of Convergence: Harnessing the Synergy at the Crossroads of Industries.
Focus on the importance of making informed decisions when it comes to career path. The speech will The keynote session features distinguished experts at the crossroads of various industries, including government authorities. These thought leaders share invaluable insights and strategies, shedding light on the dynamic intersections of industries and government policies. It's an opportunity to gain deep knowledge from those who navigate this complex landscape with exceptional expertise.
Forum session
Intersection Insights: Exploring the Interplay of Industries.
In this session, attendees can expect to gain valuable insights into the dynamic relationship between different industries and how careers can flourish at their intersections. The discussion will delve into the ways in which industries are converging, creating new opportunities and challenges for professionals. Experts and panelists will explore how skills, experiences, and strategies can be adapted and leveraged when navigating the crossroads of various sectors.
Ultimately, "Intersection Insights" promises to be an informative and engaging forum that will equip participants with a deeper understanding of how to thrive in the evolving landscape of interconnected industries, providing them with the tools they need to elevate their careers in this dynamic environment.
Career Pitch
The session comprises of company introduction, highlighting their philosophy in creating innovative technologies or service to solve real-world problems. The representative will share some of the company's cutting-edge technologies and unique features that set them apart from competitors. Participants can ask questions and engage in a Q&A session, gaining a deeper understanding of the company's mission, technologies, and culture as well.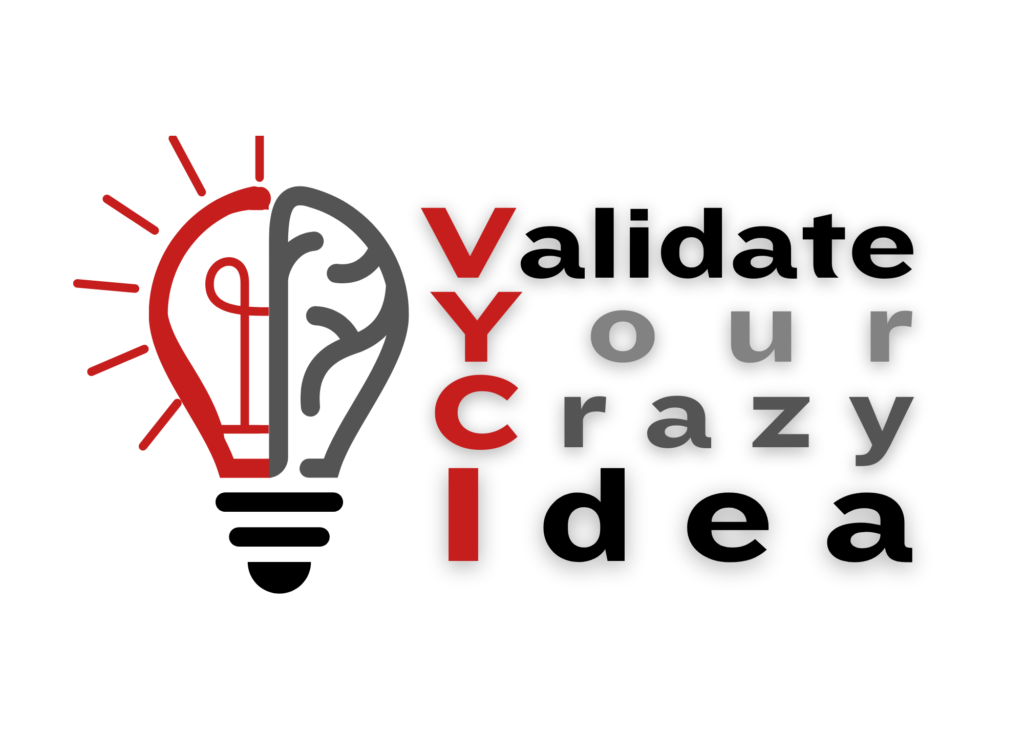 Validate Your Crazy Idea
Participate in interactive workshops designed to broaden your skill set across disciplines. Tackle real-world challenges that demand a multidisciplinary approach, addressing the immerse potential of "craziness" and practicability. The session will feature students pitching their ideas to companies based on a given theme. Each student will have 3 minutes to present their pitch, which should showcase their innovative thinking and problem-solving skills. After each pitch, the company representatives will provide feedback and suggestions on how to improve the idea. This session will offer students the opportunity to gain valuable experience in presenting their ideas to potential employers and receive real-time feedback on their work. At the same time, companies will have the chance to discover new talent and ideas from a pool of motivated and creative students.
Mini Career Workshop
The mini career workshop session will focus on providing students with preparation tips to enter the industry. The session will include various topics, including resume preparation, communication skills, and presentation skills. Students will learn how to create a professional resume that highlights their skills and experience effectively. Additionally, they will learn communication techniques that can help them stand out during interviews and networking events. The presentation module will provide students with the necessary tools to deliver engaging and effective presentations, which can be helpful in various settings. By the end of the session, students will have a better understanding of how to prepare themselves for the industry and the skills needed to succeed in their careers.
Who Should Join?
University and college students (undergrads and postgrads) seeking to enhance their employability
Professionals looking to upskill themselves with HR-related activities
Career transitioners
Anyone interested in advancing their knowledge and abilities
Recent graduates seeking to kickstart their careers
Lifelong learners eager to stay ahead in their fields.
Participation Benefit
Unlike other career fairs, the CDF will provide an opportunity for direct interaction between the companies and attendees. Participants will be exposed to an informative keynote speech, forum discussions, exhibition booths, and industrial sharing. They will also have the opportunity to become part of our NestTalent Network, which offers a gateway to connect with our vibrant talent and human development ecosystem. As a member, you'll receive timely notifications about training opportunities, job openings, scholarship programs, and numerous other initiatives presented by our esteemed partners and ecosystem collaborators. Join us and unlock a world of possibilities!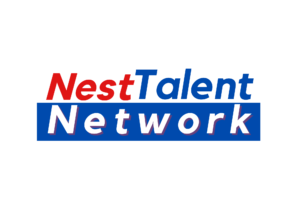 Registration
Embrace the opportunity to become a valued member of the CDF community! To join, scan the QR code or click on the link provided. Participation is FREE OF CHARGE! Your journey to personal and professional growth begins here.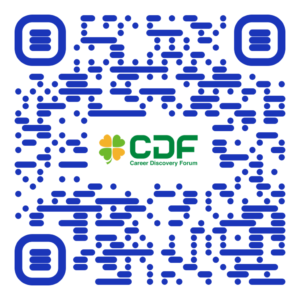 CDF 2024 pre-registration: https://cdforum.lne.st/CDFMY2024_Registration
Partner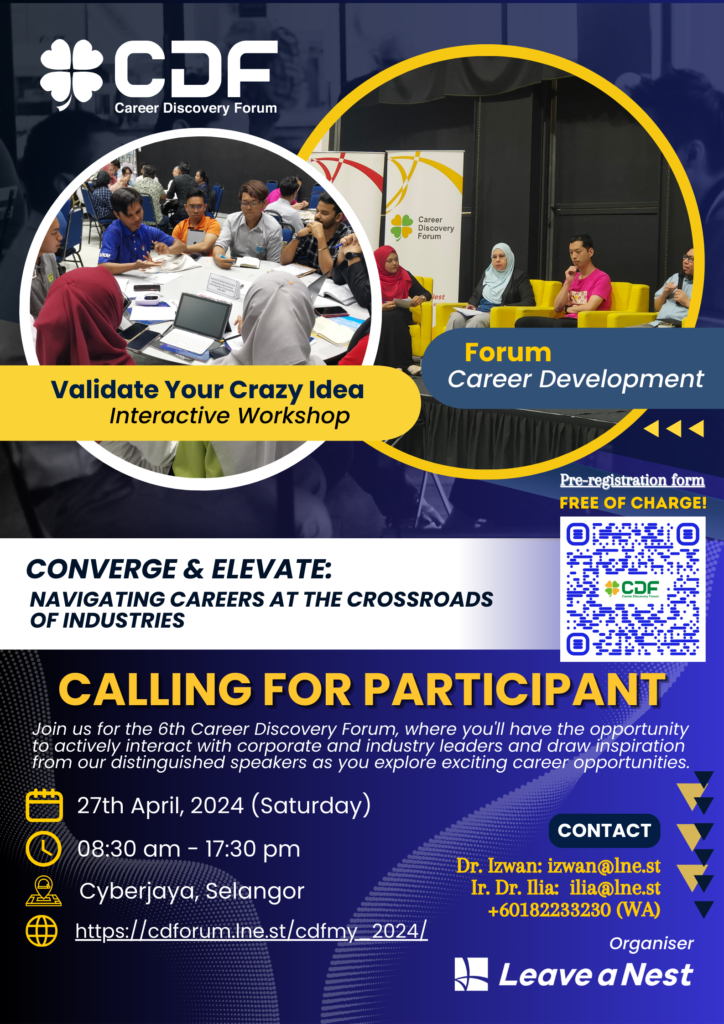 Contact
Dr. Mohd Izwan: [email protected], +60195202404
Dr. Arief: [email protected], +60135134833
Ir. Dr. Ilia: [email protected], +60132073589
News & Media